International Society of Mental Health Online (ISMHO)
Boston, August 22, 1999



Who are these people? It's us! And you... (Photo by Dr. Bob)
Clockwise, from front left: David Lukoff, Jane, Maressa Orzack, Richard Davis, Linda Welsh, Kimberly Young, Nicole English, Dr. Mike, Judith, Storm, Sage, & Nancy King, David & Marcy Greenfield.
---
This year the host of the American Psychological Association's 107th Annual Convention was Boston. Since 1997 a group of psychologists and others have shared dinner together and discussed such things as technology, online self-help, support, and mental health services, the dynamics of online relationships, "Internet Addiction", and similar topics. Here you see the 2nd Annual Dinner meeting of ISMHO. Below you can find links to summaries and discussion of many of the topics which may be of interest to ISMHO members, which were presented at the APA convention. Hope to see more of you next year. The convention will be early August, in Washington, D.C.

Current Topics in Psychology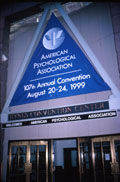 Asynchronously Live Reports from APA [1998] [2000]
---

This page was created August 27, 1999
http://www.fenichel.com/ISMHO99.shtml Last Update: Thursday, 10-Aug-2000 20:21:29 EDT

Current Topics in Psychology Copyright © 1996-2000, M. Fenichel