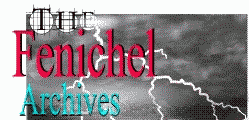 Digital Art & Photography


2000 Around The World
From the New York Times, dramatic images from around the world, of New Year's 2000, Time Zone by Time Zone

Architecture Photography Resources
Here is a resource page in itself, for those who are interested &/or engaged in architecture photography. A wide range of articles is presented, from Architectural Photograhy 101 to photo critiquing, advanced tips (light, sun, etc.), and specialized types (like interior), and even a tribute to Ansel Adams. Added 10-22-2019 - after hearing from Claire about a children's group learning experience, including this find, from Hazel. Happy clicking, and learning ...

Central Park (New York): Celebrating the Rebirth of Central Park
Another retrospective from the New York Times (2012), a mini-collection of images depicting some of Central Park's history and design.

Digital Photography Resources
Here are some of the best online sources for reviews and comparisons of digital cameras:




Fenichel Photography
View any of the online exhibits, take a brief tour or enjoy scenic stops in Boston, New York, Paris, Bodrum (Turkey), Florida, Holland, the Hawai'ian Islands, Washington D.C. & Big Sur, California - with a visit to Alcatraz!

Plus: España - Spain: Oviedo (Asturias) y Pontedeume (Galicia), Stockholm, Moscow, Havana, and Prague.
[More NY: Central Park | Imagine: Hillary & Rudy | John Lennon | George Harrison | NYC Cows | Coolpix Images | Winter Scenes ]

Galleria degli Uffizi
With collections dating from the 13th Century, Ufizzi was founded in Florence, Italy in 1581, by the De Medici family. An easy to use annotated tour. (Italian)

Getty1.com
One of, if not THE, world's largest collections of still and moving images, with over 70 million still photos and 30,000 hours of film (as of the late 1990's).

Metropolitan Museum of Art
An impressive collection, both online and off. Features include a list of Special Exhibitions as well as general visitor information.

Museum of Fine Art
From Boston, featuring some wonderful online exhibits including a terrific slide show. (Thanks, Norma!)
Current exhibitions: The museum has several magnificent ongoing exhibitions.

Museum of Modern Art
Click on the MOMA icon--itself a work of art--and sample collections of the world's finest painting and sculpture, photography, architectural design, & more.

New York Noir
NewYorkNoir's gallery features an exhibition of 1950's TV Snapshots & Photo Shows, as well as Photo essays of Coney Island, New York City, & the Hampton Classic Horse Show.

New York - Vintage Photos
By way of The Guardian, here's an introduction to a wonderful collection of crystal clear (black & white film) images from among 2.2 million images in the Dept. of Records archives of New York City, dating back 100 years or more, from the mid-1800's to early 1900's.

Nikon World
Online version of Nikon's magazine featuring selected works of featured photographers. Articles and a very smooth (but small-sized) slide show.

Panoramic Photography: 1851-1991
"Taking the Long View."

San Francisco Museum of Modern Art
A recent search through digital art archives led to this wonderful collection of exhibits at the SFMOMA.

Smithsonian Image Galleries
Recently expanded, the Smithsonian site now offers sections on History & Archeology, Photography, Science & Nature, Arts & Culture, and Travel.

Top 10 Digital Photography Tips - Take Your Digital Photography To the Next Level!
From 'BestReviews' (list), here is a handy guide to some photography basics - and not just for digital. Some considerations for aspiring 'serious' photographers, such as composition tips- like the 'rule of thirds' - as well a look at fundamentals such as light and shutter speed, along with an introduction to digital camera tools such as focus assistants and metering displays.

Treasures of the Louvre
Sculpture, Painting, and Drawings, from Antiquities to Modern. [Francais]

Tretyakov Gallery
State Gallery of Russia - National Art Treasures from Antiquity to Modern Times. [You can sample a few images from their main gallery of classic Russian art here.]
Their web site has an extensive virtual collection of painting, sculpture, and other media. If in Moscow, a definite museum to visit in person for a taste of classic Russian art.

Vacation and Travel Photography Tips
As Mom was seeking ways to engage young people with photography, daughter Kelsey came across this page and liked it. I'd say it is a short & sweet overview of some key points in vacation or tourism photography, from selfies to Instagram wonders or more. Covers basics like awareness of light, people, and reflections, plus some tips how to pace yourself across the steps involved in taking and sharing digital photography. [Liberty Cruise]

Van Gogh Museum
From Holland, in English, Français, Nederlands, &

Weather Photography & Storm Chasing
From Fred Jaicks, whose business centers around weather umbrellas, but whose passion extends to all types of weather phenomena and its photography - including from the work of 'storm chasers'. An extensive list of links/references to weather-related photography.




Dr.Mike's NYC Guide
TOP

Comments? Suggestions?

Last Updated: Monday, 08-Jun-2020 01:59:39 EDT
Copyright © 1996-2020 Michael Fenichel