Dr. Mike's Homepage
Psychology, Photography & Internet Fun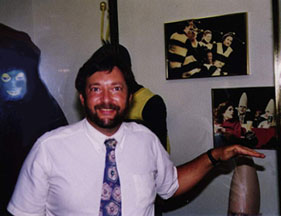 Hi, welcome to my (original 1990's) Home Page!

Here one can (still) find information about legislation affecting mental health services - in New York City Schools, New York State, and nationwide (e.g., IDEA, Managed Care). To temper the serious, I've included some tasty Internet links, travel photography, Cyberspace Humor & a few thought-provoking examples of the human mind in action.

That's me, up above, "shrinking heads of the rich and famous", or pretending to. [That's the original Saturday Night Live Coneheads!] In reality, I am a clinical psychologist whose work has been in psychiatric hospitals, clinics, schools, disasters (as of late), and corporate settings. I also do some consultation in areas of online communication, education, and interpersonal relationships as they are integrated into every day life. My specialties are thinking, communication, and psychotherapy. My passions are people, travel & photography. Enjoy!