Photography by Fenichel:
Yosemite and High Sierras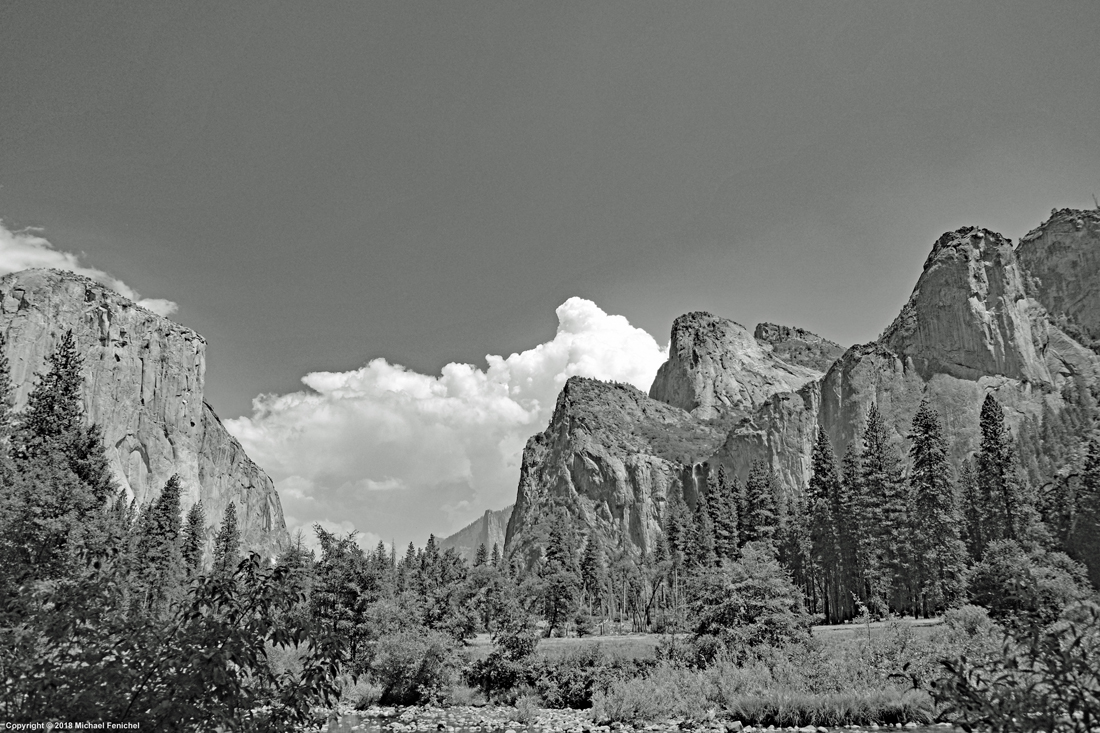 Tunnel View from Yosemite Valley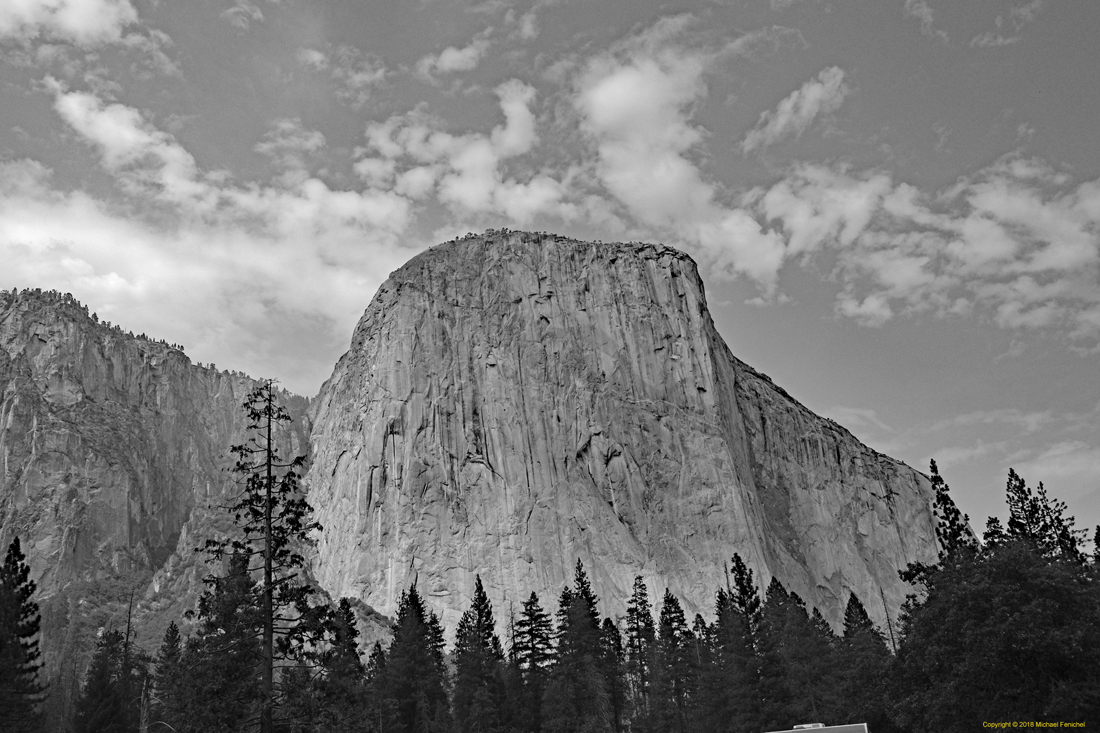 El Capitan
[Originally posted to a just-begun Google+ Collection, August 2018, shortly after the park re-opened, but with some still-burning wildfires. I have retained the original present-tense descriptions here.]

El Capitan is one of the best known and most spectacular of the iconic formations found throughout Yosemite National Park. (Yes, it was an Apple OS too.)

The sky has been hazy-blue (and the air smells like campfire).
But the wildfires are being contained and finally it is again possible to see those formations - and the sky.
Much gratitude to the many firefighters, still on the job.

A "silver lining" to the smoky air impacting the valley in particular: Much like the wonders of a "cloudy bright" day for color photography, these smoky-bright days have led to some crispy black and white images, and even some clouds coming into focus amid haze. Yosemite's majesty endures.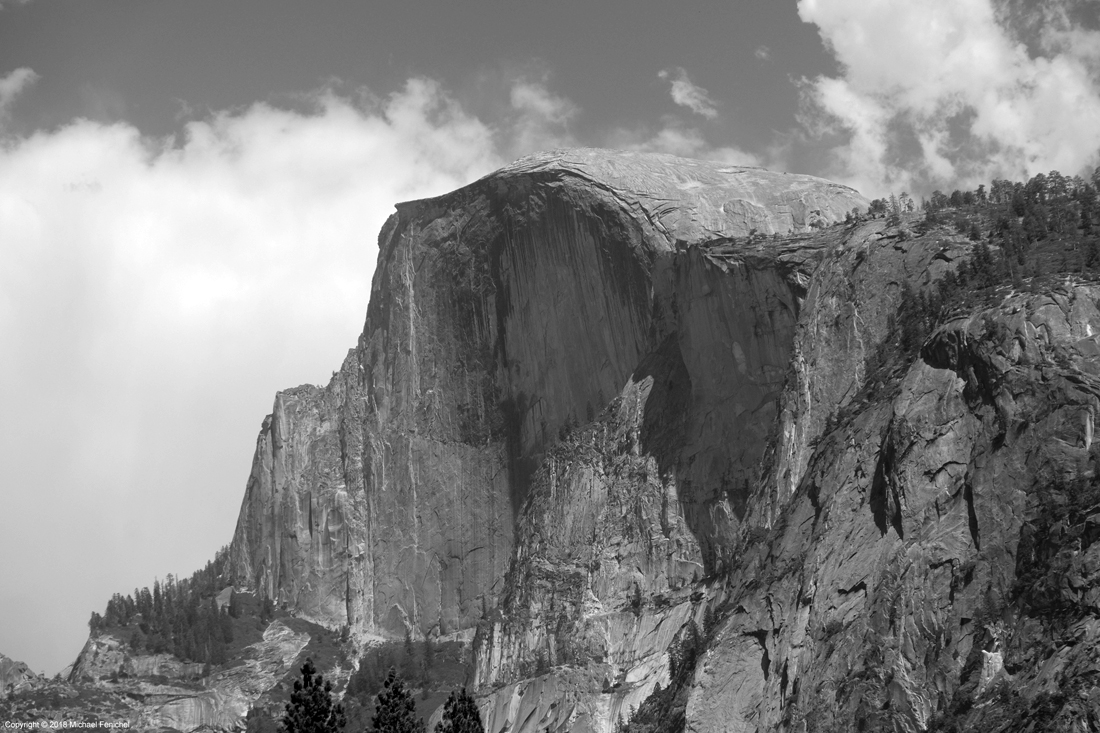 Half Dome (Black & White)
The black & white image was captured with Acros (r), Fujifilm X-T2 and the infamous 18-135mm lens. I also have an image of Half Dome in color, from this same vantage point. (See below.)

Arriving in Yosemite Valley the first day it re-opened (August 2018) after closing due to wildfires, it was still quite smoky.

But "hazy-bright" light was perfect for black and white, offering high contrast and smooth grey rather than the smoky blue-ish haze.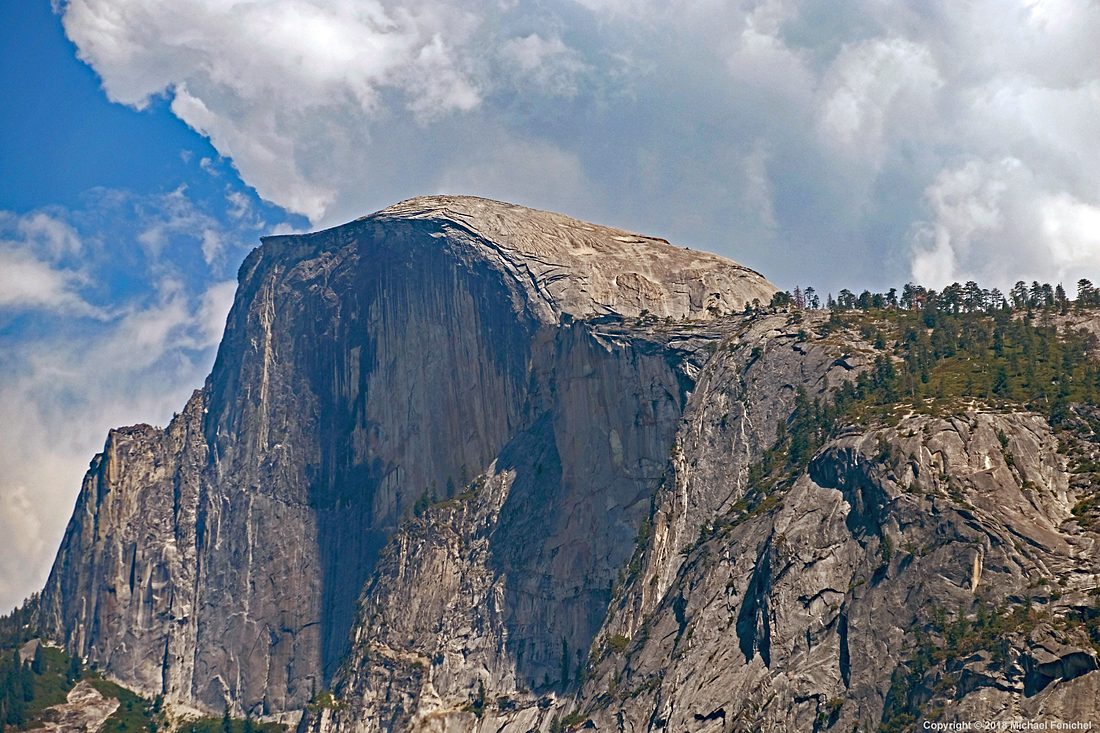 Half Dome (Color)

So the question is: Why 'half'? Well... Thanks to glacial activity what was a nice roundish dome got sliced on one side; This is the view of the result, looking right at the slice. Although... it may be somewhat a mirage (the "half" part) because about 80% of the original Northwest part of the formation is still intact although the vantage point from Yosemite Valley makes it seem like a perfect slicing off of half a dome. In any case, this is a renowned destination for serious rock climbers, complete with a well-known "cable route" with steel cables to aid as hand-holds. Challenging. Many try and cherish the success, but others die trying, both experts and those seeking selfies as their focus, before safety.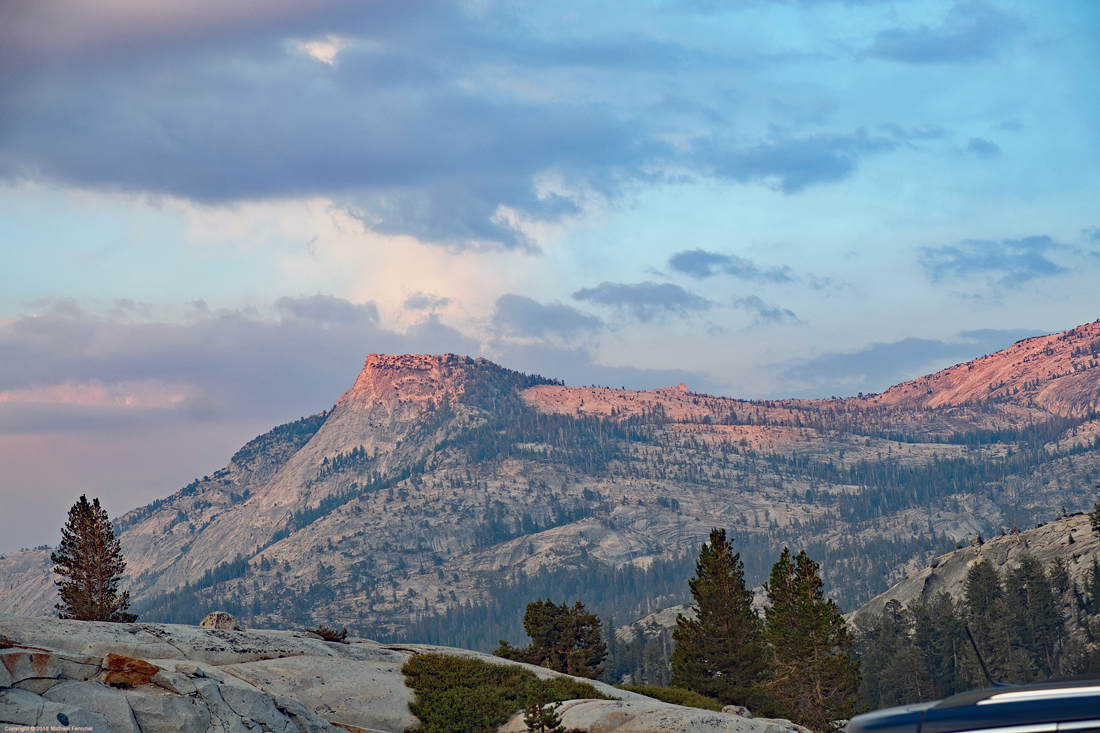 Olmsted Point at Dusk
The sky was beginning to return to bluish color after weeks of wildfire smoke, but fires still burned nearby. A haze filter brought back a view of the sky, but to the eye it was so smoky/hazy that it was often difficult to see very far. Here we find giant "erratic" boulders scattered across jointed granite slopes. This spot is named in honor of legendary landscape architects Frederick Law Olmsted and Frederick Law Olmsted, Jr. The son was best known for successfully advocating for the protection by the state of Yosemite Valley and Mariposa Big Tree Grove. Eventually this was the first land set aside for public use and served as a foundation for the National Park System. The elder Olmsted had earned fame as the landscape architect who, in the 1850's, designed another protected oasis of nature, this for the enjoyment of urban dwellers surrounded by an ever-growing city: New York's Central Park.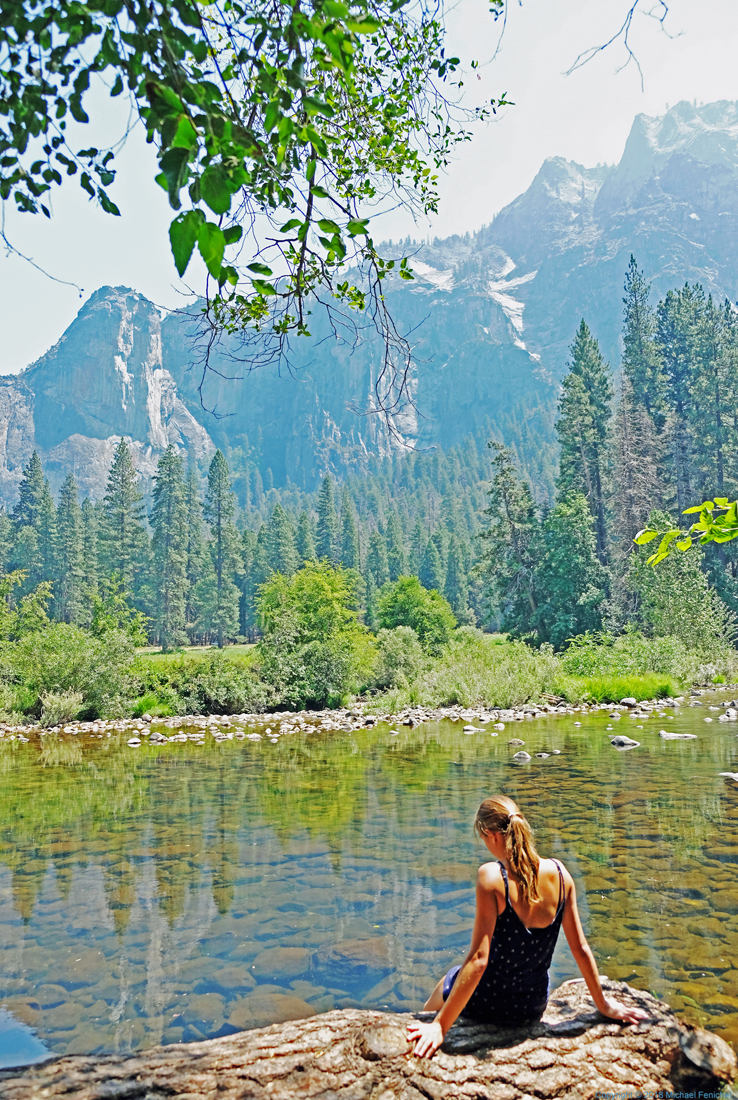 Reflections and Mist
Aside from extreme climbing, hiking, and other strenuous challenges, Yosemite is also a paradise for simple appreciation of nature and beauty. This is in Yosemite Valley near the Mist Trail trailhead, where some head up the rock for spectacular encounters with waterfalls. In August most major falls are dry (except for Bridal Veil Falls). But the views along and under the trail are sublime, and the cool clear Merced River, and shade from the towering Ponderosa pines provide a tranquil respite from the hot sun and smoky air. Great for appreciating nature, meditation, and reflection.


Update: March 2020 - Yosemite is now closed again. This time due to global pandemic, the novel corona virus, COVID-19.


And speaking of ghost towns....



Images of Bodie, California Gold Rush "Ghost Town"
California


La-La Land
Venice Beach
Hollywood Blvd.





Hollywood
Zoltar Speaks
San Francisco



Big Sur
Pigeon Point Lighthouse
Fog (Near Carmel)






Birds's Eye View
View from Sausalito
Panorama: Golden Gate







San Fran Streetscape
Big Sur Panorama
San Francisco Streetcar


Alcatraz
View from SF Bay
Pier 39 - Sea Lions
(Collection)



FenFotos: Amsterdam | Boston | Cuba | D.C. | Florida | Hawai'i | Moscow | New York | Paris | Prague | Spain | Stockholm | Turkey


Photographs Copyright © 1996-2020 Michael Fenichel. All Rights Reserved.
Please write for further information on purchasing or licensing these images.

www.fenichel.com/yosemite

E-Mail Inquiries or Comments to:

This page last updated: Thursday, 26-Mar-2020 02:10:26 EDT