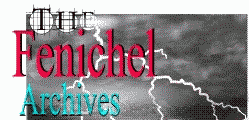 Entertainment

Arts & Culture
As the name says. An extensive web of pages & sites, presented by New York's legendary Channel 13/WNET.

Film Picks by Mr.G
Filmster-triviatist Amadeus G picks "The Best 86 Films of All Time". A great conversation piece!

The Honeymooners
One of television history's funniest and most endearing series, with a wonderful cast and premise. If you don't know who Jackie Gleason and Art Carney were, check out some of the audio and video clips you can find here. For devotees, there is a large collection of trivia and detail pages.

New York Film Festival
2015 New York Film Festival
Lincoln Center for the Performing Arts

Theatre Development Fund
Excellent resource for Broadway Theatre goers, from New York's TDF. Special features and information on how to get low cost last-minute tickets through TCKTS.

TV Land
From Nick at Nite, a collection of great television-related pages, including classic theme songs, message boards, interviews, and varied multi-media.




Family Fun

ALFY.com
This is an engaging and visually appealing site for young children, aged 3 and up. A colorful cross between Disneyland and Sesame Street, a child-safe environment of wonderment and learning. Words, numbers, & life are all presented with audio and visual pizazz. Developed by child psychologists and educators.

Comics.com (Formerly The Comic Zone)
Something for everyone, including editorials, satire, and classic, vintage comic strips from Marmaduke and Li'l Abner to Peanuts to Dilbert and the Grizzwells, with all sorts of interactive web pages in between.
(United Media)

Cyber-Seuss: The World of Dr. Seuss
"The Great Glorious and Gandorious"...Dr. Seuss

Family EducAtion Network
The #1 rated family site by Family PC magazine. A national partnership of local schools and parents. Information and discussion groups.

NeoPets
NeoPets are a huge phenomenon among older children and young teens. Create your own pets and unusual creatures, tend to their needs, compare with your friends' Neopets, participate in NeoPet activities, play games, and create a world as rich in magic as that of Harry Potter. If you don't know what to do with this, ask a group of web-savvy kids!

PBS Kids
Colorful, interactive pages for kids who love PBS shows like Sesame Street, Zoom , Teletubbies, and Mr. Rogers' Neighborhood. Also features Colorful, interactive pages for kids who love PBS shows like Sesame Street, Zoom , Teletubbies, and Mr. Rogers' Neighborhood. a PBS Kids TV guide, Coloring Pages and more.

Ringling Brothers and Barnum & Bailey
Here it is, "The Greatest Show on Earth", now online at a circus screen near you!

Streetplay.com
Here's one for kids of all ages, a site with features and reminiscences about the games we played on the streets of our childhoods. Stoop-ball, hopscotch, stickball, you name it, it's all here, presented by some very prestigious sources.

Teen Time
Websites for today's teens. Includes several cool pages, both fun and educational, including games and hobby pages.

Winnie the Pooh and An Expotition to A Wonderful Place
The ultimate Winnie-the-Pooh site for kids of all ages, and parents too.
[This wonderful site seems to have disappeared, sadly, 10-2007. We'll give it a chance to return. Meanwhile, here is another site devoted to Just Pooh.]




"Everything you always wanted to know about Winnie the Pooh and friends."

Wizard of Oz
The Wonderful Wizard of Oz Website is the epitome of Ozness, with clips from the movie, links to a large number of active W.O.O. pages, some with blogs, fact pages, fan club news and more. If you're craving Wizard of Oz, here's a great place to start. Click your heels 3 times, and say... [11-2010]

There are other great Oz pages out there as well. This page features a few midi arrangements of the most well-known songs, and some very nice illustrations from the book. There are also several still photos from the movie accompanied with audio clips of some of the great songs and memorable sound bytes from The Wizard of Oz. Between these two sites, you're bound to re-live the thrill of this American classic, as they point us towards the yellow-brick road.



TOP





Last Updated: Thursday, 18-Mar-2021 04:42:36 EDT
Copyright © 1996-2021 Michael Fenichel