Karlův most (Charles Bridge)
Prague (Praha), Czech Republic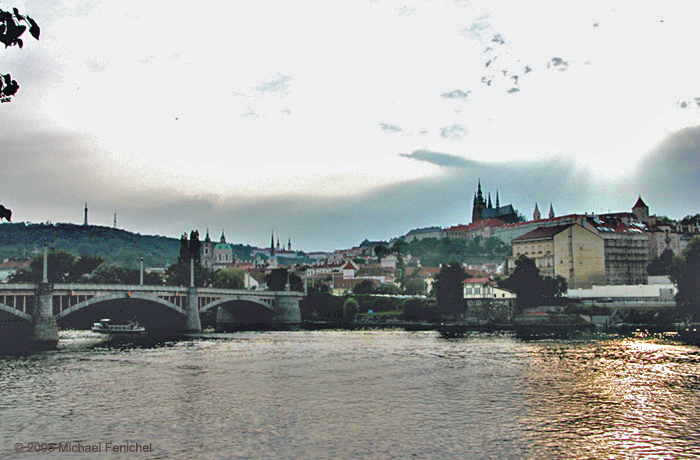 Photograph Copyright © 2005-2015 Michael Fenichel

This is the view walking at dusk along the Vltava's Left Bank, in Staré Město near to the former Jewish Ghetto of Josefov.

Looming behind is Prague Castle (Hradcany), said to be the largest in the world. Once inside the gates, one begins a journey through courtyards inside of courtyards, palaces upon palaces, with churches and dungeon, and Golden Lane, where Kafka did some of his writing. Although crowded with tourists now, it is impossible not to feel the ghosts of history everywhere, with the statues themselves seemingly holding court with passersby and each other. It's like coming upon the Land of Oz up there in the distance in the sky.


It can be very spiritual too, between the statues above, the River Vltava below, the castle in the mist, and sometimes, such as today, with the earthy and mystical sound of the didgeridoo.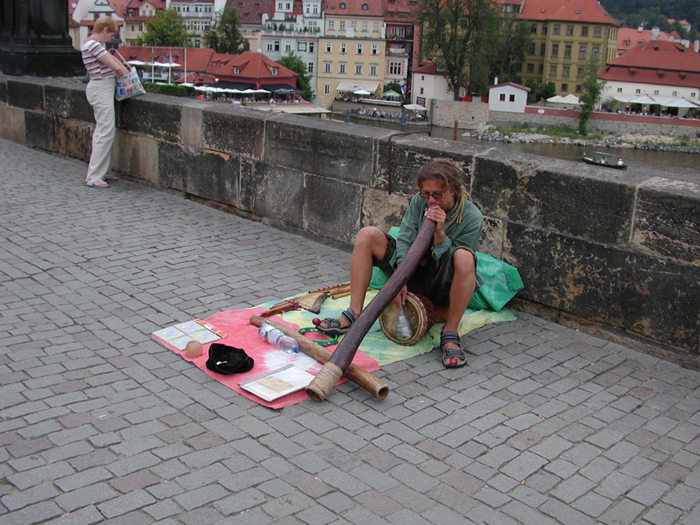 Photograph Copyright © 2005-2015 Michael Fenichel


And, as always, the statues watch, seemingly poised to break into speech at any moment.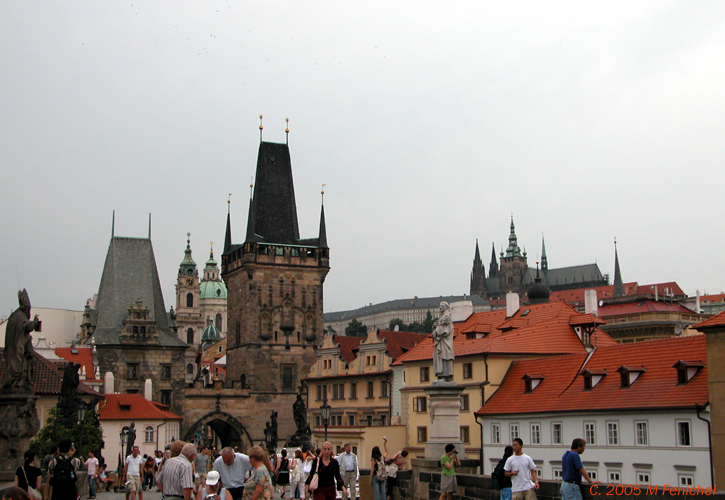 Photograph Copyright © 2005-2015 Michael Fenichel

At this end of Charles Bridge, on the Right Bank, with Mala Strana to the left and the Hrad (Castle) district to the right, stands a pair of uneven bridge towers connected by a castellated arch. The smaller Judith Tower (named after the wife of Vladislav I) was part of the original Romanesque-style Judith Bridge. This was the only section of the original bridge to survive the great floods of 1342. The second, taller structure (Mala Strana Tower) was built in the 2nd half of the 15th Century in a style similar to the Old Town Bridge Tower on the opposite side.


From the top of Mala Strana Tower, one has a wonderful view of the Charles Bridge and the Old Town , Staré Město.


---


Prague : Vltava Views | Charles Bridge | Astronomical Clock (Orloj) | Týn Church | Hus Monument | Josefov

Jubilee | Kutna Hora | Mala Strana | Street Art | UFO | Mala Strana Tower View | St.George Basilica | Wenceslas Square



INDEX: Amsterdam | California | DC | Florida | Hawai'i | Moscow | NY | Paris | Spain | Stockholm | Turkey



---



www.fenichel.com/prague/charles.shtml

Photography by Fenichel Copyright © 1985-2015 Michael Fenichel. All Rights Reserved.
This page last updated: Friday, 25-Sep-2015 02:28:58 EDT