Prague (Praha), Czech Republic
Staroměstské náměstí (Old Town Square) - Jan Hus Monument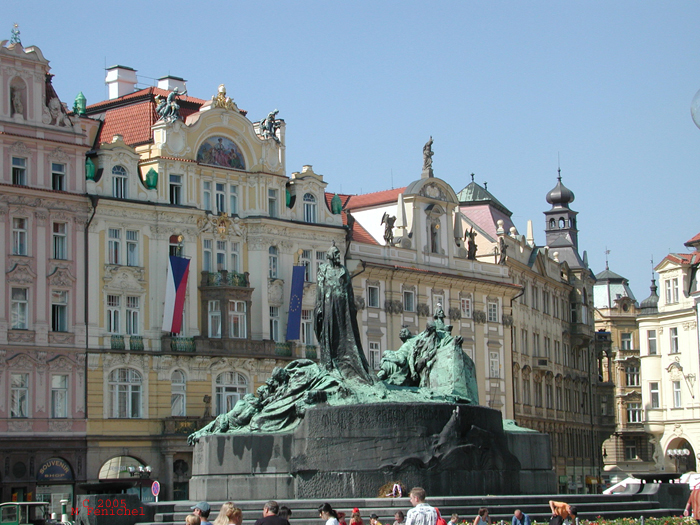 This memorial to Jan Hus captures his strength of purpose and belief in his moral high ground, while to his right lay the remains of the oppressed, and to his left are the defiant.

A national hero, Hus was a revered preacher whose reformist politics and outspoken ways eventually saw him branded a heretic by the church, and burnt at the stake, July 6, 1415.

Since its arrival on the square in 1915, in time for the 500th anniversary of Hus' death, the monument has been a rallying point, at times symbolically covered by flowers, swastikas (upon the Nazi invasion), and funeral drapings (1948) when the Communists took control in the "bloodless revolution". The inscription on the base says: Truth Prevails.

Looking around from this vantage point are an amazing display of architecture, as well as a city of statues atop the roofs. Some of the names atop the building walls include Salvator Mundi and Svazy Vaclave. One of the buildings was a gymnasium (school) for a time, with a student named Kafka in attendance. There is an incredible amount of history in this square.

Below is another look at Jan Hus (4 years later), now joined by another legend of Prague, The Golem.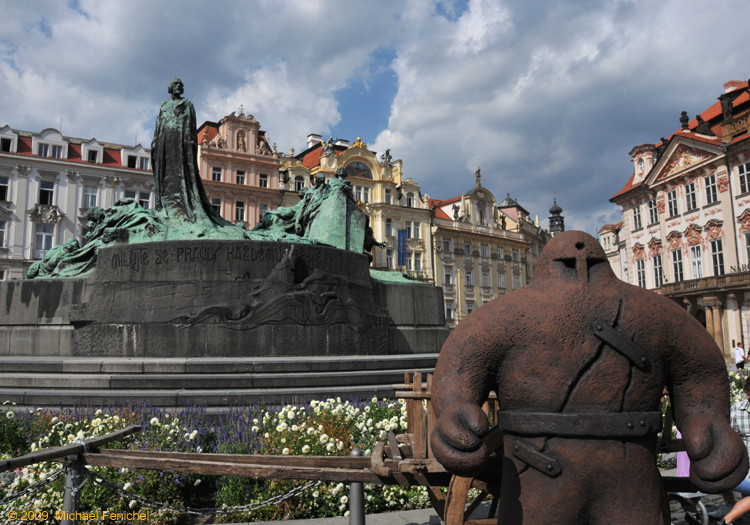 ---


Prague : Vltava Views | Charles Bridge | Astronomical Clock (Orloj) | Týn Church | Josefov | Jubilee

Kutná Hora | Mala Strana | Prague Castle | Street Art | U.F.O. | View from Mala Strana Tower | Wenceslas Square



INDEX: Amsterdam | California | Cuba | DC | Florida | Hawai'i | Moscow | NY | Paris | Spain | Stockholm | Toronto | Turkey


---

www.fenichel.com/prague/hus.shtml

Photography by Fenichel Copyright © 1985-2022 Michael Fenichel. All Rights Reserved.

This page last updated: Tuesday, 22-Mar-2022 01:16:53 EDT