Kutná Hora, Czech Republic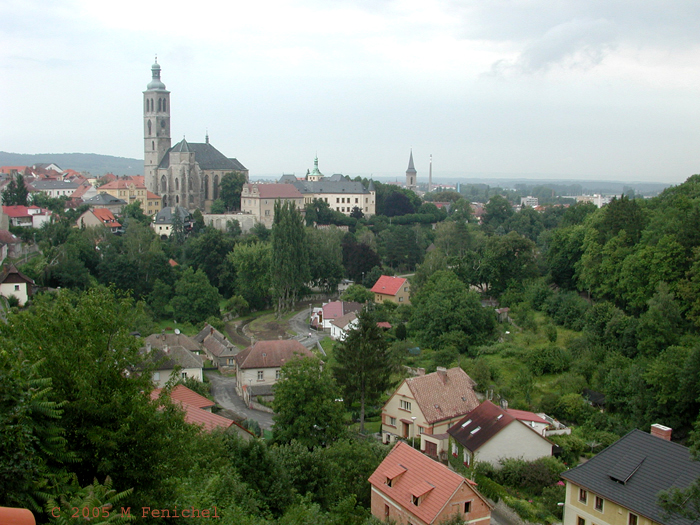 Photograph Copyright © 2005-2016 Michael Fenichel


To the east of Prague is the town of Kutná Hora and neighboring Sedlec, with its unusual ossuary which serves as a memorial to the tens of thousands who died of the Plague or Hussian wars. But on a lighter note, Kutná Hora was one of the wealthiest towns in all of Europe, having the fortune in medieval times to be sitting on silver ore, leading it (circa 1300) to become the royal mint, producing coins which were the silver standard of the day.

With the money came grandeur, and a church meant to rival the opulence of St. Vitus, in the Castle (Hrad) quarter of Prague. That church, St. Barbara's, is featured in the photo below. Meanwhile another splendid church is within view above, and that is St. Jakub (St. James) Church, mostly built in the 14th century, but the silver bubble burst and to this day it is unfinished. And the tower leans.
Church of St. Barbara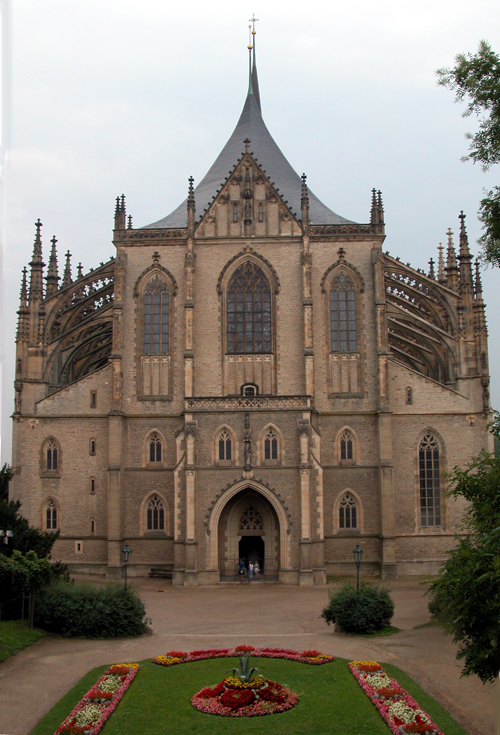 Photograph Copyright © 2005-2014 Michael Fenichel

Remember the Ossuary? It's just up the road from the church and mint of Kutná Hora, in Sedlec, originally settled in the 10th Century. In 1278 King Otakar II of Bohemia sent Henry, abbot of Sedlec to the Holy Land. He returned carrying with him a handful of earth from Jerusalem, Grave of the Lord, which he spread on the cemetary of the Sedlec Monastery, to consecrate it. It became a famous burial ground, mostly for the affluent, until the Plague hit (30,000 people buried there in 1318 alone) followed by the Hussite wars early in the next century.

Graves and bones everywhere. It was decided to honor both the dead and living by constructing a new cathedral which would pay homage to the Virgin Mary, as well as the victims of plague and war. Originally a Gothic 14th Century church, with two chapels, after being set on fire by Hussites it was rebuilt in Czech Baroque style betweeen 1703 and 1710, by famous Czech/Italian architect Jan Santini-Aichl. From bones.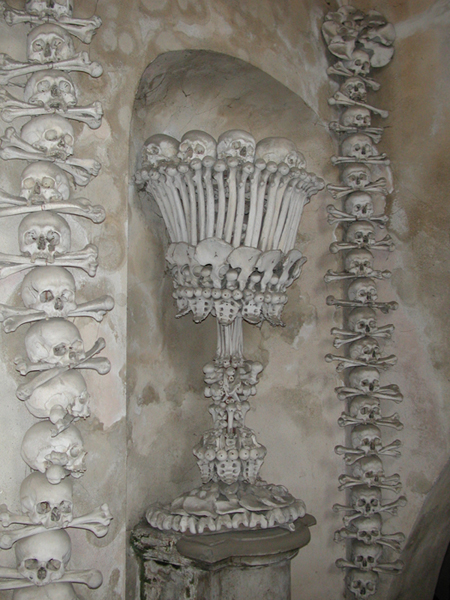 Photograph Copyright © 2005-2016 Michael Fenichel

---
Prague : Charles Bridge | UFO | Astronomical Clock (Orloj) | Týn Church | Hus Monument | Vltava Views

Bazilica Sv Jiri | Hrad | Josefov | Jubilee | Mala Strana | View from Mala Strana Tower | Street Art | Wenceslas Sq



INDEX : Amsterdam | Boston | California | D.C. | Florida | Hawaii | Moscow | NY | Spain | Stockholm | Toronto | Turkey


---



www.fenichel.com/prague/kutnahora.shtml

Photography by Fenichel Copyright © 1985-2016 Michael Fenichel All Rights Reserved.

This page last updated: Saturday, 16-Apr-2016 00:40:31 EDT