Russian Stories : Literature, Art, and History
Moscow, Russia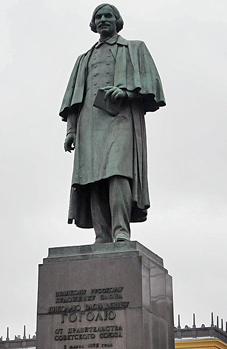 Nikolai Vasilievich Gogol


In parks and on promenades one finds many wonderful works of art reflecting historical, artistic and literary icons. Above is a tribute to Ukrainian-born Russian 'realism' writer, Gogol. Ornate statues reside within the Metro stations, historic cathedrals and state buildings - as well as numerous museums.

One can stroll around Patriarch's Ponds, and take in some legendary Russian fables from Krylov. It's a short walk from here to the flat where Bulgakov's inspiring story of The Master and Margarita began:

Flat #50.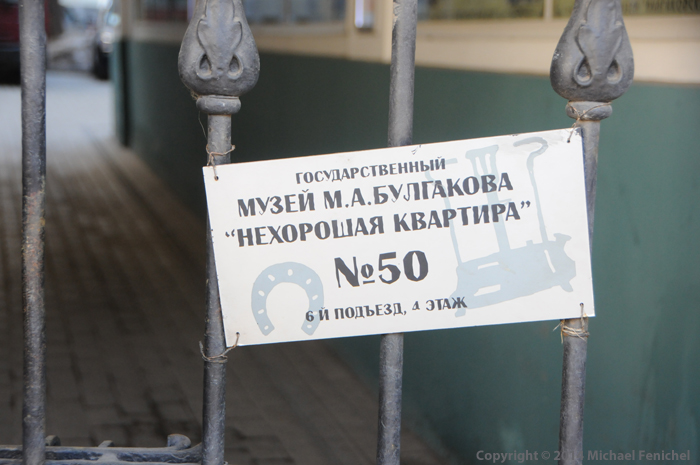 Mikhail Bulgakov and Friends - Flat #50 - Patriarch's Ponds - Literary Allusions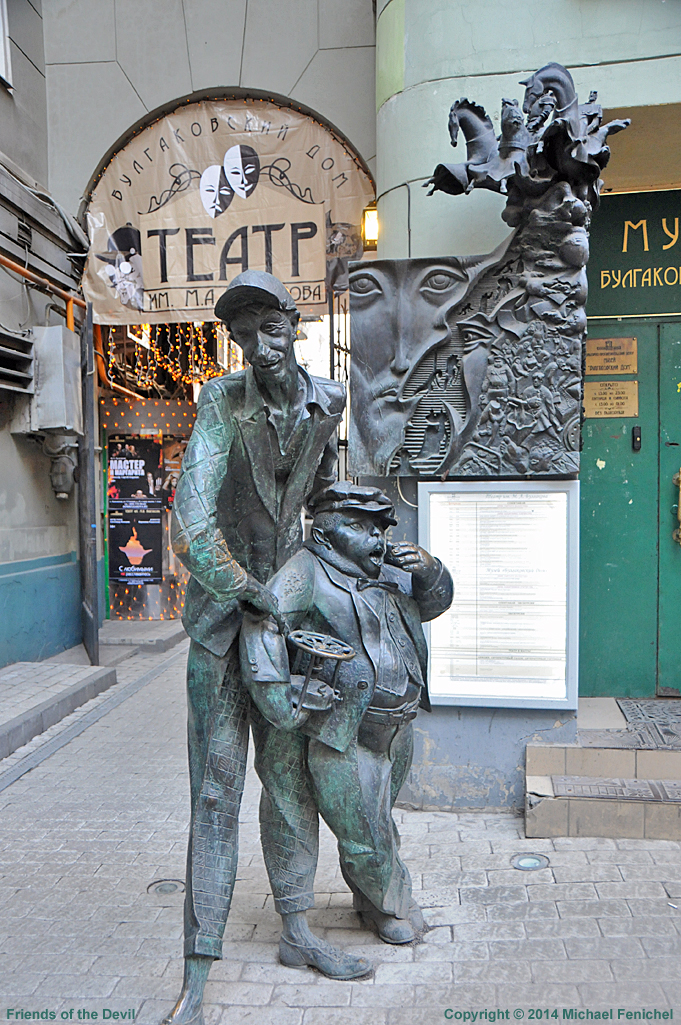 "Berlioz looked around miserably, not knowing what had frightened him. He turned pale, wiped his forehead with a handkerchief, and thought, 'What's wrong with me? This has never happened before... my heart's playing tricks on me... I'm overtired. Maybe it's time to throw everything to the devil and go off to Kislovodsk... '

And then the hot air congealed in front of him, and out of it materialized a transparent man of most bizarre appearance. A small head with a jockey cap, a skimpy little checked jacket that was made out of air... The man was seven feet tall, but very narrow in the shoulders, incredibly thin, and his face, please note, had a jeering look about it." - Mikhail Bulgakov


A Warning from the Devil, Assistant and Cat: DO NOT SPEAK TO STRANGERS!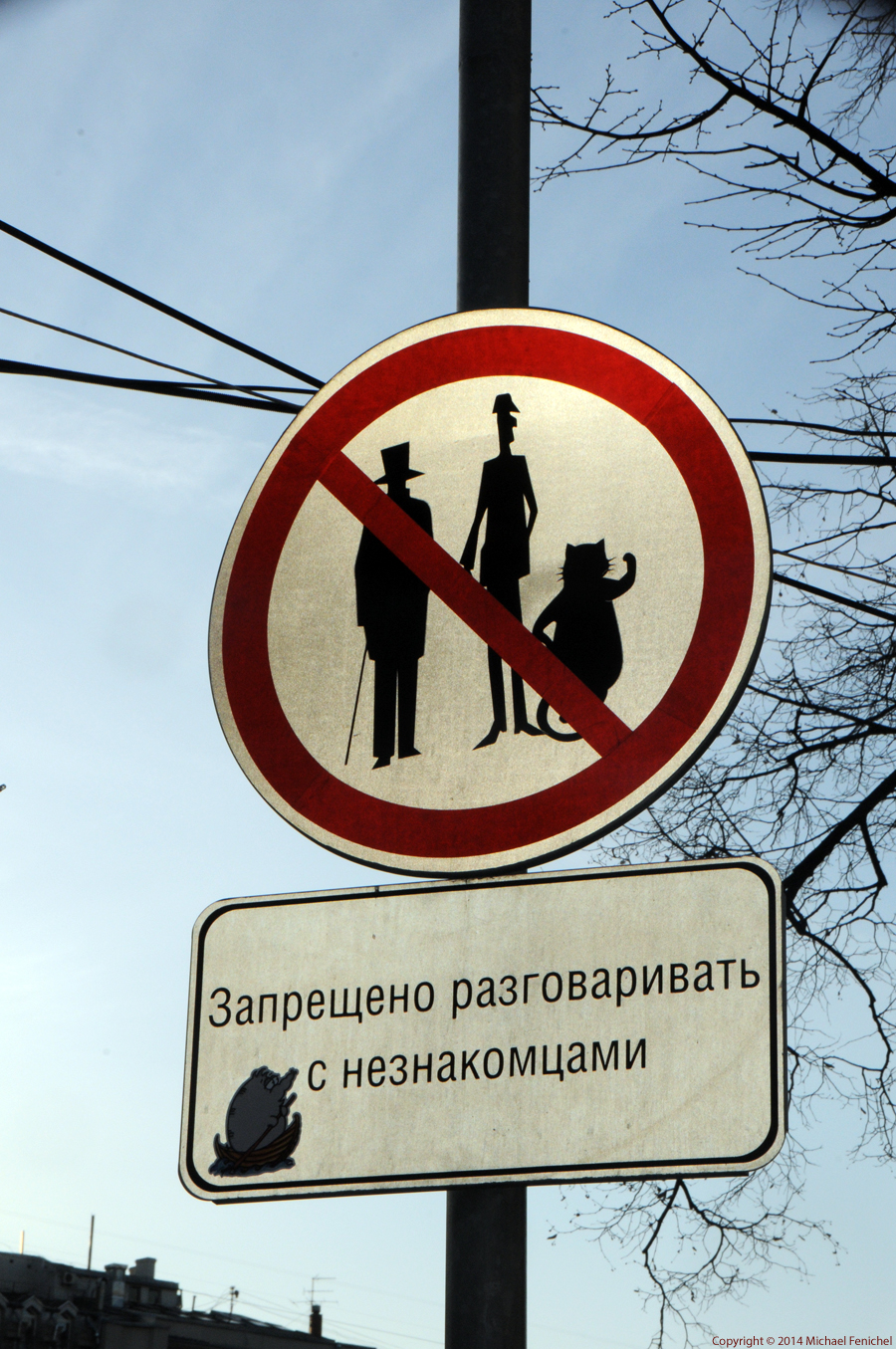 Who says officials and planners can never have a sense of humor? There are many such literary references nearby, and tributes to the rich history of Russian literature.

In nearby Patriarch's Ponds, where Master & Margarita begins, fables are depicted in sculpture, under the Linden Trees.


The statue below is the story told to Russian - and other - children about the fox and the crow. The short version: Fox is hungry and crow is holding a big piece of cheese, but won't let it go. Fox says, oh please, dear crow, you are so beautiful, a treat for my eyes, but I heard your heavenly voice and I would beg you please, please, just sing a few notes for me... Crow sings and fox eats cheese.
[Full Text of Fable] Thank you Nataly, for your insider's walking tour!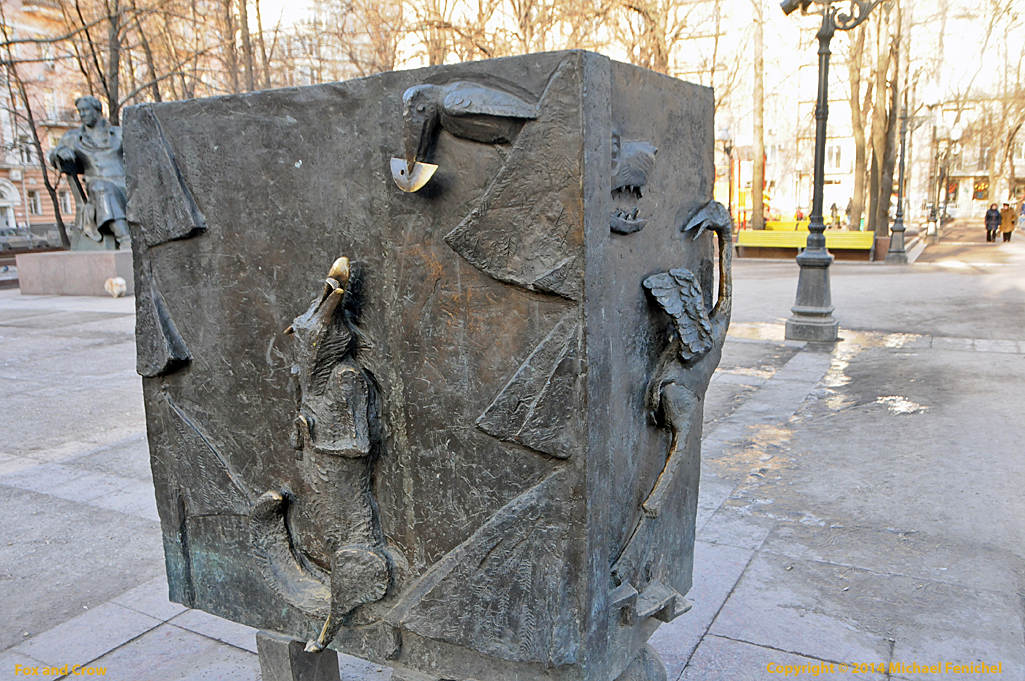 Russian Folk Tales and Literature in Art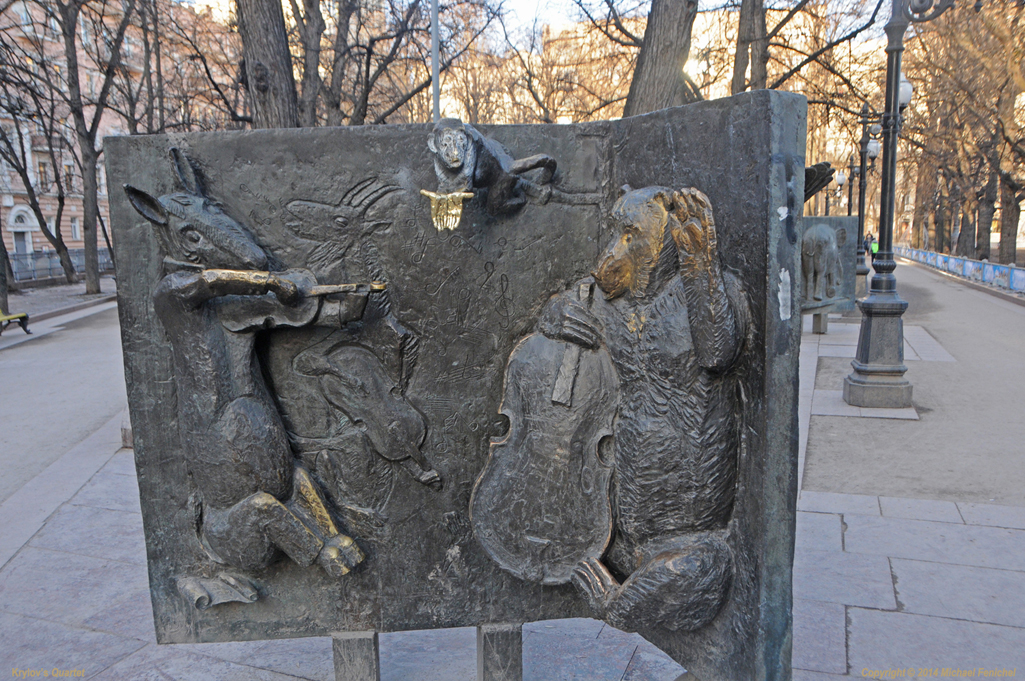 Above is Krylov's Quartet, illustrating how you can re-arrange the players, but that's no guarantee of good music.
MOSCOW : St.Basil's Cathedral: Day & Night | Red Square | Lenin's Grave | Kremlin | Russian Art | City Sights 2
---

Fenfotos INDEX: Amsterdam | Boston | California | Cuba | DC | Florida | Hawai'i | New York | Paris | Prague | Spain | Stockholm | Toronto | Turkey


This page last updated: Monday, 11-Jun-2018 00:20:46 EDT
Copyright © 2014-2018 Michael Fenichel