Father Damien
St. Philomena Church, Kalawao - Kalaupapa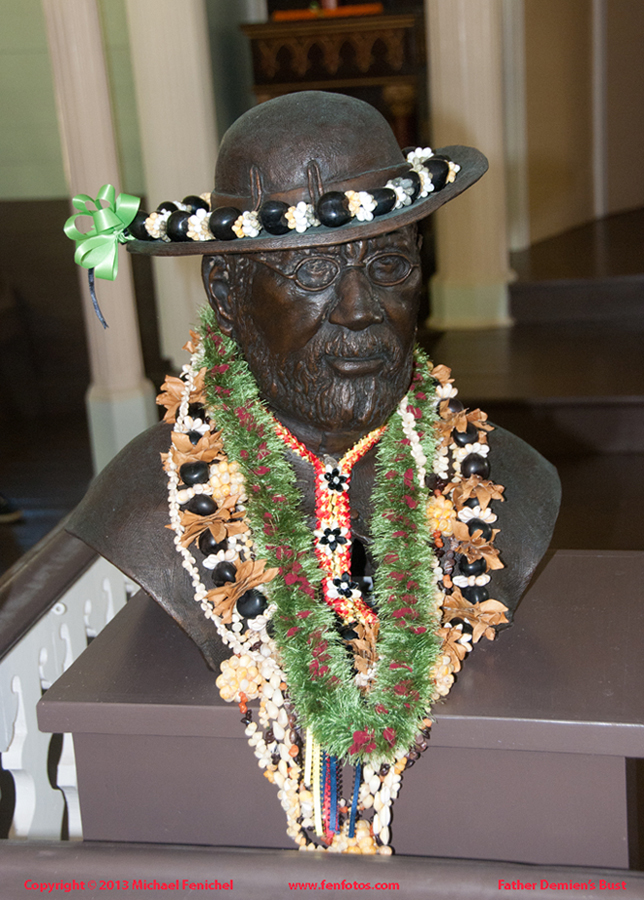 Bust of Father Damien


This is in the church where Father Damien ministered to those condemned to face the ravages of leprosy (now curable, and respectfully referred to here as Hansen's Disease).

Indigenous Hawai'ians were displaced beginning in 1865, as 'lepers' were dispatched to this 'isolation colony', condemned to horrid conditions and little comforts. Father Damien arrived at Kalawao in 1873 and fought long and hard for things like basic necessities - such as beds, medical care, and spiritual support. He was later joined by Sister Marianne Cope, sainted along with Father Damien, for their dedicated and difficult work, and increasingly supported by public, church, and private - and even Royal - contributions. By the 1930's, most of this original (Kalawao) settlement had moved from here (windward side) to the warmer, calmer leeward-side of the peninusula, in Kalaupapa.


HAWAI'IAN ISLANDS: BIG ISLAND: Place of Refuge Kilauea Volcano Hilo Kona | OAHU: Waikiki Blue Sunset Hanauma Bay | KAUA'I | MAUI: Mt. Haleakala Caldera Cows SilverSword DragonTeeth | MOLOKA'I

Fenfotos INDEX: Amsterdam | Boston | California | D.C. | Florida | Hawai'i | Moscow | NY | Paris | Prague | Spain | Stockholm | Toronto | Turkey


This page last updated: Saturday, 12-Mar-2016 03:00:50 EST
Copyright © 2013-2015 Michael Fenichel