Photography by Fenichel:

Oahu - Hanauma Bay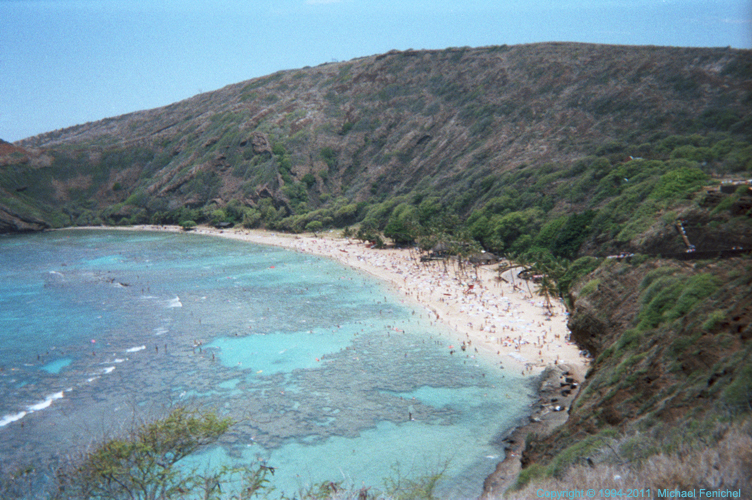 Just a short drive from congested Waikiki, Hanauma Bay is the site of Elvis's Blue Hawaii, and a great place to snorkel!

Yes, that is coral you can see from the distance, and it is teaming with tropical fish. One can buy fish food at the concession stand and hold out one's hand underwater as the fish swarm to get a treat. One walks down the steep trail to the right (or takes the tram) to get to this wonderful little beach, not far from the bustle of Honolulu or the crowds on Waikiki.

HAWAI'IAN ISLANDS: BIG ISLAND: Hilo Kilauea Volcano Kona Place of Refuge || KAUA'I: Crop Duster at Dusk < Hanapepe Na Pali Cliffs Rain Forest

MAUI: Cows DragonTeeth Mt. Haleakala Caldera SilverSword || MOLOKA'I || OAHU: Blue Sunset Hanauma Bay 'Chinaman's Hat' Waikiki



INDEX: Amsterdam | Boston | California | Cuba | D.C. | Florida | Hawai'i | New York | Paris | Prague | Spain | Stockholm | Toronto | Turkey


www.fenichel.com/hanauma.shtml
This page last updated: Tuesday, 11-Feb-2020 21:26:29 EST
Photography by Fenichel Copyright © 1997-2020 Michael Fenichel