Prague (Praha), Czech Republic
Church of Our Lady Victorious / Prague Infant Jesus (Prazske Jezulatko)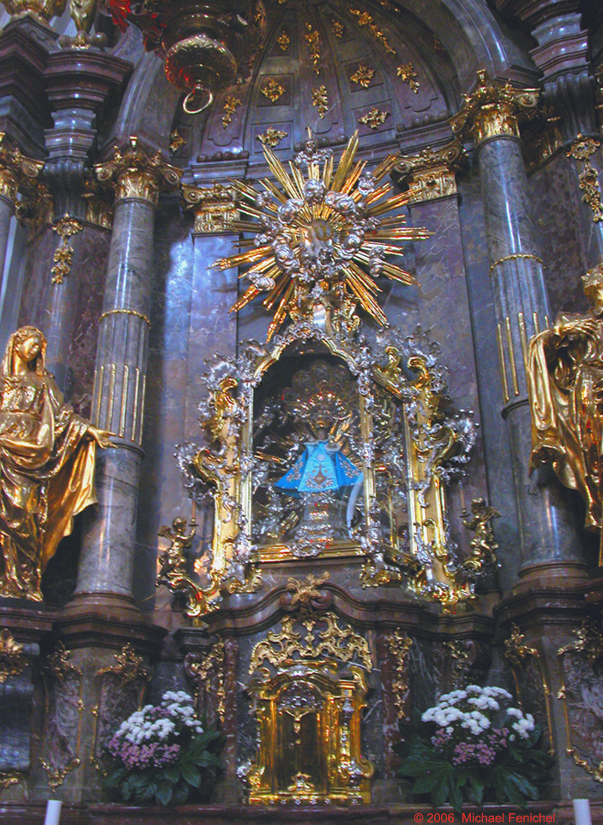 We are looking here at the Prague Infant Jesus, in the center, blue, a wax effigy of the Infant Jesus given by Spain to Prague in 1628, and said to bring decades of good luck afterwards, during the Plague and Thirty Years War. It is an icon. Now I understand the importance of this gift to the culture and religious history in Prague.

Upstairs is an exhibit of spare gowns donated by celebrities worldwide, for the Prague Infant Jesus.

This was the first Baroque-style church in Prague, built by Giovanni Maria Filippi in 1613 for German Lutherans.






Prague : Charles Bridge | UFO | Astronomical Clock (Orloj) | Týn Church | Hus Monument | Vltava Views

Hrad | Tančící dům | Josefov | Jubilee | Mala Strana | View from Mala Strana Tower | Wenceslas Square || Kutna Hora



INDEX: Amsterdam | California | D.C. | Florida | Hawai'i | Moscow | NY | Paris | Spain | Stockholm | Toronto | Turkey





www.fenichel.com/prague/pragueinfant.shtml

Photograph Copyright © 2006-2017 Michael Fenichel. All Rights Reserved.

This page last updated: Tuesday, 27-Jun-2017 02:29:12 EDT